BRAND IDENTITY, LAYOUT, WEB DESIGN
Elisha Braithwaite Photography
Elisha Braithwait is a photographer who specializes in wedding and portrait photography across Utah and the west coast with documenting over 250+ weddings. Capturing all couples, families, and people, regardless of background, culture, or choice in love, with respect, enthusiasm, and care.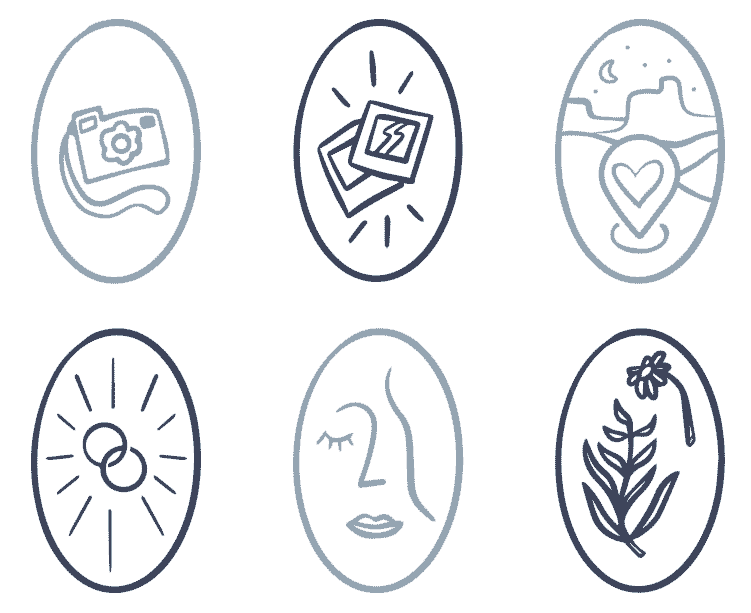 Capturing your future nostalgia.
Elisha wanted her brand to feel as heirloom and heritage as the photographs she makes for her clients. Because she does a lot of elopements and outdoor weddings, she wanted to pay homage to the landscapes that act as venues, with something that felt warm and inviting, but still intimate.
We created this stamp icon with strong illustrative ties to wax seals and makers' marks to give the brand a romantic and familiar feel.
"It feels exhilarating taking this step in my business as I continue growing creatively, professionally. and look to expand my services to more people. Massive thanks to Hot Slice Design for bringing her professionalism and talents to this project!" – Elisha, Owner
TYPOGRAPHY & COLOR PALETTE
Romantic with a hint of mystery.
Typography was meant to evoke the same feel as the logo mark, so we created this custom wordmark that evokes a close intimacy with some of the letters stacking into each other. The flared san-serif gives just the right amount of traditional feel of a serif, but is cleaner and more modern. Colors desired were calming and natural, so we went with a couple blues to allude to the beautiful "blue hour" as well as a rusty orange reminiscent of the red rock landscapes across Southern Utah.
WEB DESIGN
A modern scrapbook, full of love.
Elisha often shoots analog/film as well, so in order to bring in more of that old school approach, we took inspiration from scrapbooking and collage for the website layout. We incorporated lots of overlapping elements, but kept the layouts still gridded and clean to help with ease of navigation and not be too overwhelming.
Due to the nature of her portfolio, we create blog templates that make updating and organizing her shoots a breeze, taking the headache out of website design, and letting her focus on what she does best, capturing memories and making moments last forever.
See more of our
tasty
past creations